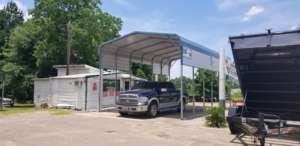 If you have been near our Livingston Office lately you might have noticed a lot of new items. Of course there are the Graceland Buildings but there are a couple of new permanent features as well. We're talking about car ports, RV ports, a loafing shed (all of which are installed at Livingston), sheds, combos and loafing barns among other building types from our new friends at Castle Metal Buildings. We are now a dealer for them and are proud to be associated with this great company out of Kemp, Texas.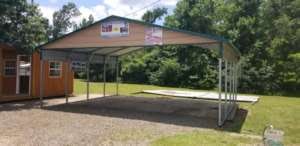 Each building is built to order so we can't show you inventory here as we do with other items we sell. They do come in five basic types and six basic styles. The types include car ports, barns, RV ports, sheds and combos (car port plus enclosed area). The styles we will get into on our Castle Metal Buildings site and you can always contact us to find the type that's right for you.
Each Castle Metal Building comes with a free site estimate prior to installation along with a 2-year warranty on workmanship. Prior to installing a Castle structure we will make sure your area is prepared, and as level as it can be, before they place anything on it. Each structure is built on site and can be weather-secured if needed. One of the main reasons we chose to work with Castle is their attention to detail, quality materials made in Kemp, Texas, and a commitment to do things transparently and correct the first time. That's the Castle Way.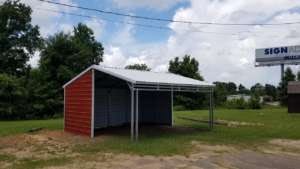 To get started, come to our Livingston, Texas Office at 3273 US Highway 190 West, Livingston, TX 77351. You can also call (936) 755-3445. You will find no nonsense pricing and a perfect compliment to a Graceland Portable Building or whatever you have on your property. That's the Castle Way.